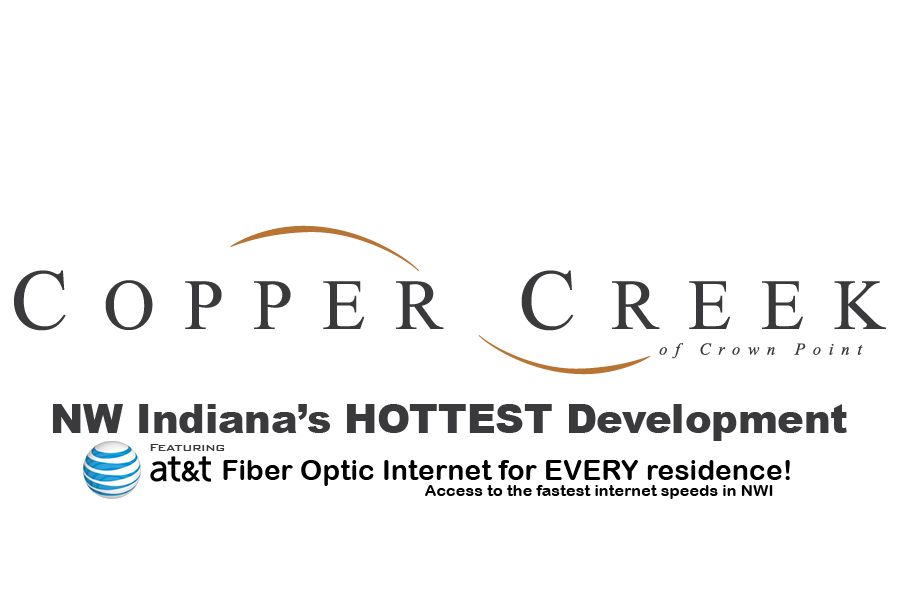 Welcome to Copper Creek

Now available for construction!
A beautiful place to live located in Crown Point, Copper Creek is one of the finest choices for areas to live in the town.  Trees, ponds, and great views can be found at every corner of the community. Located in the Southwest corner of Crown Point just blocks from the top rated Crown Point High School, St. Anthony's hospital and Youche Country Club. Less than 3 miles from the historic Crown Point square, 3 miles to I-65 or 3 miles to recreational opportunities of Cedar Lake. A part of Northwest Indiana's fastest growing community. Offering a wide range of lots of 80'x130′ and larger. The property is wooded and rolling with walkout and daylight lots available.
The Copper Creek community will be joined in with the Crown Point Schools.  Lake Street Elementary, Robert Taft Middle School, and Crown Point High School are the 3 top of the line schools that the community is apart of.
HIGHLIGHTS
Close to YMCA
Close to historic Crown Point Square
Close to Crown Point High School
Crown Point Schools
Crown Point Sewage and Water
Next to Youche Golf Club
Close to county park and fairgrounds
Close to I-65 interchange
Featuring AT&T Fiber Optic – NWI's Fastest Internet
Phase 2: NOW AVAILABLE!
Copper Creek News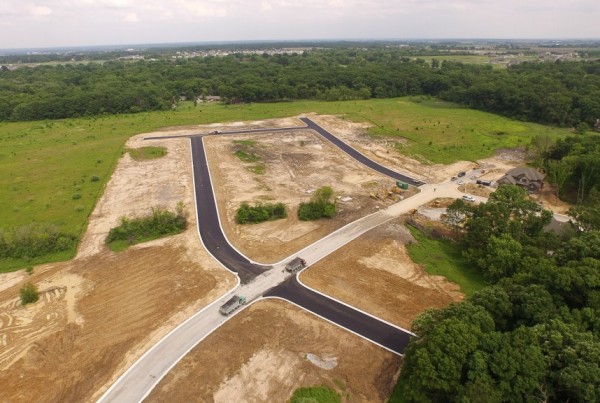 Copper Creek has been moving along as scheduled for development of Phase 2! The paving for the roads is completed, which means everything is a step closer to starting full…
| | | | | | |
| --- | --- | --- | --- | --- | --- |
| Lot # |     Address | Avg. Dims. | Features | Builder | Contact |
| 77 | Sylvia Lane | 90 x 135 | Large Corner, Daylight | Fisher Construction | 219-696-2043 |
| 78 | Sylvia Lane | 80 x 135 | Daylight | CK Building & Design |  219-775-0510 |
| 79 | Sylvia Lane | 80 x 130 | Daylight | Diamond Peak Homes | 219-775-5096 |
| 80 | Sylvia Lane | 80 x 130 | Daylight | Eenigenburg Builders | 219-322-0906 |
| 81 | Sylvia Lane | 80 x 130 | Flat | Diamond Peak Homes | 219-775-5096 |
| 82 | Sylvia Lane | 80 x 130 | Flat | Paradise Builders | 219-306-0050 |
| 83 | Sylvia Lane | 80 x 130 | Flat | Kelly Construction, Inc | 219-663-6030 |
| 84 | Franklin Drive | 100 x 125 | Flat | Anderson & Anderson |  219-743-4341 |
| 85 | Franklin Drive | 80 x 130 | Large Corner, Daylight | Steiner Homes | David Gring 219-916-3744 |
| 86 | Franklin Drive | 80 x 130 | Daylight | American Dream | |
| 87 | Franklin Drive | 80 x 130 | Daylight | Vater Construction | 219-746-8189 |
| 88 | Franklin Drive | 80 x 130 | Daylight | Eenigenburg Builders | 219-322-0906 |
| 89 | Franklin Drive | 100 x 130 | Flat | Fisher Construction | 219-696-2043 |
| 90 | Copper Creek Drive | 90 x 130 | Large Corner | Cal Homes, Inc |  219-798-8812 |
| 91 | Copper Creek Drive | 80 x 130 | Flat | Anderson & Anderson | 219-743-4341 |
| 92 | Copper Creek Drive | 80 x 130 | Flat | Trademark Group Development | 219-746-9519 |
| 93 | Copper Creek Drive | 80 x 130 | Flat | Eenigenburg Builders | 219-322-0906 |
| 94 | Copper Creek Drive | 80 x 130 | Flat | Diamond Peak Homes | 219-775-5096 |
| 95 | Copper Creek Drive | 80 x 130 | Flat | Trademark Group Development | 219-746-9519 |
| 96 | Copper Creek Drive | 100 x 130 | Large Corner | Available | Available |
| 97 | Copper Creek Drive | 110 x 135 | Large Corner | Available | Available |
| 98 | Copper Creek Drive | 80 x 130 | Flat | CK Building & Design |  219-775-0510 |
| 99 | Copper Creek Drive | 80 x 130 | Flat | Kelly Construction, Inc | 219-663-6030 |
| 100 | Copper Creek Drive | 80 x 130 | Flat | Paradise Builders | 219-306-0050 |
| 101 | Franklin Drive | 80 x 130 | Corner | Available | Available |
| 102 | Franklin Drive | 80 x 130 | Flat | Heartland Builders | 219-746-9352 |
| 103 | Franklin Drive | 90 x 130 | Corner | Available | Available |
| 104 | Sylvia Lane | 80 x 130 | Daylight | Vater Construction | 219-746-8189 |
| 105 | Sylvia Lane | 80 x 130 | Daylight | Trademark Group Development | 219-746-9519 |
| 106 | Sylvia Lane | 80 x 130 | Walkout | Diamond Peak Homes | 219-775-5096 |
| 107 | Sylvia Lane | 80 x 130 | Walkout | Anderson & Anderson |  219-743-4341 |
| 108 | Feather Rock Drive | 110 x 140 | Large Corner | SOLD | SOLD |
| 109 | Feather Rock Drive | 80 x 125 | Flat | Available | Available |
| 143 | Feather Rock Drive | 100 x 130 | Large Corner | TG Development | 219-808-1008 |
| 144 | Feather Rock Drive | 100 x 130 | Back to Trees | Newcastle Homes | 630-327-8360 |
| 145 | S. Feather Rock Dr. | 110 x 130 | Wooded, flat, corner | TG Development | 219-808-1008 |
| 146 | Copper Creek Dr. | 80 x 155 | Wooded, lookout, CE | Eenigenburg Builders | 219-322-0906 |
| 147 | Copper Creek Dr. | 80 x 139 | Wooded, lookout, CE | Diamond Peak Homes | 219-775-5096 |
| 148 | Copper Creek Dr. | 80 x 136 | Wooded, lookout, side slope, CE | Trademark Group | 219-746-9519 |
| 149 | Copper Creek Dr. | 80 x 148 | Wooded, lookout, CE | TG Development | 219-808-1008 |
| 150 | Copper Creek Dr. | 85 x 135 | Wooded, flat, CE | Steiner Homes | David Gring 219-916-3744 |
| 151 | Copper Creek Dr. | 110 x 124 | Wooded, high, sloping | Steiner Homes | David Gring 219-916-3744 |
| 152 | Copper Creek Dr. | 84 x 139 | Wooded, high, flat | Newcastle Homes | 630-327-8360 |
| 153 | Copper Creek Dr. | 80 x 134 | Wooded, high, sloping | Palace Builders | 219-313-9873 |
| 154 | Copper Creek Dr. | 80 x 131 | Wooded, high, flat | Homes by Brian | 219-365-9040 |
| 155 | Copper Creek Dr. | 80 x 128 | Wooded, high, flat | Legacy Builders | 219-776-3116 |
| 156 | Copper Creek Dr. | 107 x 125 | Wooded, corner, flat | TG Development | 219-808-1008 |
| 162 | Estelle Lane | 80 x 130 | Wooded, high, flat | Trademark Group Development | 219-746-9519 |
| 163 | Estelle Lane | 80 x 129 | Wooded, high, flat | Newcastle Homes | 630-327-8360 |
| 164 | Walnut Drive | 102 x 129 | Wooded, corner, flat | TG Development | 219-808-1008 |
| 165 | Walnut Drive | 80 x 137 | Wooded, lookout, sideslope | Heartland Builders | 219-746-9352 |
| 166 | Walnut Drive | 95 x 138 | Wooded, corner, lookout, sloping | Vater Construction | 219-746-8189 |
| 167 | Walnut Drive | 100 x 225 | Wooded, corner, lookout, CE | Paradise Builders | 219-306-0050 |
| 168 | Walnut Drive | 85 x 150 | Wooded, cul-de-sac, lookout, CE | Vater Construction | 219-746-8189 |
| 169 | Walnut Drive | 85 x 180 | Wooded, cul-de-sac, walkout,CE | Homes by Dutch Mill | 219-808-3781 |
| 170 | Walnut Drive | 85 x 165 | Wooded, cul-de-sac, walkout,CE | TG Development |  219-808-1008 |
| 171 | Walnut Drive | 85 x 125 | Wooded, cul-de-sac, walkout,CE | TG Development |  219-808-1008 |
| 172 | Walnut Drive | 110 x 160 | Wooded, cul-de-sac, walkout,CE | Kelly Construction, Inc | 219-663-6030 |
| 177 | Estelle Lane | 93 x 130 | Wooded | Newcastle Homes | 630-327-8360 |
| 178 | Estelle Lane | 80 x 140 | Wooded | Diamond Peak Homes | 219-775-5096 |
| 179 | Estelle Lane | 80 x 120 | Wooded | CK Building & Design |  219-775-0510 |
| 180 | Estelle Lane | 85 x 125 | Wooded | Steiner Homes | David Gring 219-916-3744 |
| 181 | Walnut Drive | 80 x 110 | Wooded | CK Building & Design |  219-775-0510 |
| 182 | Walnut Drive | 80 x 140 | Wooded | TG Development |  219-808-1008 |
| 183 | Walnut Drive | 80 x 143 | Wooded, partial lookout | CK Building & Design | 219-775-0510 |
| 184 | Walnut Drive | 80 x 169 | Wooded, lookout, side slope | Diamond Peak Homes | 219-775-5096 |
| 185 | Copper Creek Dr. | 100 x 118 | Wooded, corner, high, side drive | TH Construction, Inc | 219-746-8233 |
| 186 | Copper Creek Dr. | 82 x 133 | Wooded, heavy slope, walkout? | Artisan Construction | 219-313-4102 |
| 187 | Copper Creek Dr. | 85 x 160 | Wooded, heavy slope, walkout? | River Bend Homes | 219-308-1572 |
| 188 | Copper Creek Dr. | 90 x 160 | Wooded, heavy slope | Available | Available |
| 189 | Copper Creek Dr. | 85 x 180 | Wooded, heavy slope | Available | Available |
| 190 | Copper Creek Dr. | 85 x 130 | Cul-de-sac | TG Development | 219-808-1008 |
| 191 | Copper Creek Dr. | 120 x 160 | Big, cul-de-sac | Available | Available |