A true "Estate" setting, these 11 lots offer some of the most beautiful home sites in Saint John, Indiana- N.W. Indiana's premier community.
A must see- dense oak trees with dramatic grade changes offer a variety of walkout, daylight and gently sloping estate size lots.
A secluded enclave offering a serene setting in a convenient location. Just minutes away from shopping, dining and major roads.
Looking to join the beautiful community of St. John, Indiana? Cardinal Cove offers the perfect place to build your dream home in a town that is ranked as one of the top places to live in all of Indiana. Keep happy in this quiet community, while still being close to local parks, attractions, business shopping centers, restaurants, and much more!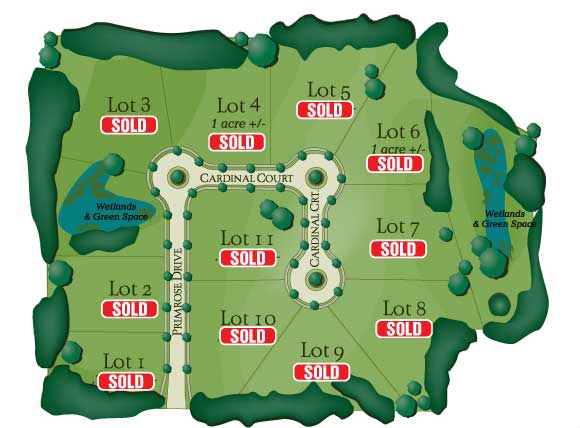 | | | | | | |
| --- | --- | --- | --- | --- | --- |
| 1 | 8815 Primrose Dr. | 34,238 | 156' W x 226' D | Wooded / Daylight | |
| 2 | 8835 Primrose Dr. | 34,020 | 150' W x 227' D | Wooded / Daylight | |
| 3 | 8865 Primrose Dr. | 58,239 | 220' W x 214' D | Wooded | |
| 4 | 8875 Cardinal Ct. | 47,306 | 214' W x 217' D | Wooded / Daylight | |
| 5 | 8879 Cardinal Ct. | 43,560 | 189' W x 232' D | Wooded / Daylight | |
| 6 | 8880 Cardinal Ct. | 43,647 | 158' W x 276' D | Wooded / Daylight | |
| 7 | 8850 Cardinal Ct. | 43,603 | 199' W x 216' D | Wooded / Daylight | |
| 8 | 8830 Cardinal Ct. | 44,344 | 105' W x 215' D avg | Wooded / Daylight | |
| 9 | 8828 Cardinal Ct. | 41,556 | 135' W x 200' D avg | Wooded | |
| 10 | 8837 Cardinal Ct. | 39,552 | 110' W x 210' D avg | Wooded | |
| 11 | 8855 Cardinal Ct. | 32,670 | 170' W x 210' D avg | Wooded | |
8835 Primrose Dr
St John, IN 46373